Facelift Surgery
Facelift Surgery (Rhytidectomy)
A facelift is a surgical procedure to improve visible signs of aging in the face and neck.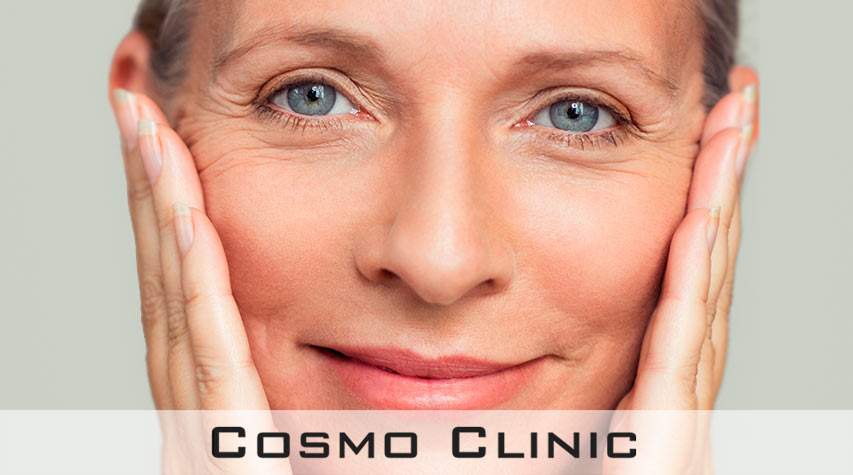 A facelift is a surgical procedure to improve visible signs of aging in the face and neck.
Good candidates for a facelift include:
Healthy women and men who do not have medical conditions that impair healing
Nonsmokers
Individuals with realistic expectations
The SMAS facelift technique is the modern standard of facelifts. According to the facelift surgeons at Cosmo Clinic, it provides better results than skin-only lifts of the past. It is a deep rhytidectomy that lift the fibrous layer that covers the muscles deep in the face – known as the SMAS (superficial muscular aponeurotic system).
Cosmo Clinic's philosophy is that facelift patients should be able to walk down the street after two weeks, looking like a rejuvenated version of themselves. Results should look natural, regardless of which procedure the patient has done.
We know from experience that it is natural to feel preoperative stress or anxiety. Don't be shy about discussing these feelings with our nurses, anesthesia care team or your plastic surgeon.
Facelift Testimonials and Reviews
If anyone is considering a facelift, I can definitely 100 % recommend Hilde Bjærke
"I scheduled a consultation with Hilde in 2021 in regard to having a neck and facelift. I chose Hilde because of her skillful work, recommendations, and long experience as a surgeon. I had seen an interview with her on NRK about the work she had done on many patients that had Bell's palsy, which I myself had had 10 years earlier. One of my biggest fears of having a facelift was that the nerve could be damaged again, so I knew that this was the surgeon I needed to meet. Hilde was so knowledgeable about the condition and I felt immediately at ease after talking to her.
I loved Hildes honestly when she told me I didn't need a facelift and to come back in a year, then she'd reassess again. I knew straight away that this was a serious surgeon that had her patients' best interests at heart. There was no thought of going to another surgeon for a second option. I trusted Hilde and knew I'd found the surgeon for me.
One year later I went back to the clinic for a second consultation. I turned 50 this year and felt that I had aged quite dramatically. Hilde agreed that the time was now right to do the facelift. She informed me quite realistically about what I could achieve, as well as the possible complications that can happen with any operation. Then the fear set in!!....... Was I doing the right thing? Was I going to look 'Plastic'. Was my mouth going to look different (pulled back as if I was on a motorcycle doing 100 mph). What would my children think.
I made another consultation with Hilde with a list of questions and question by question Hilde put my mind at rest. I think the biggest thing that eased my mind were the photos of past patients. I thought how natural they all appeared, fresher and not so tired looking, but no way at all did they look operated on. They weren't flawless, their faces still had expressions and character but they appeared 10-15 years younger. It was very important that I still looked like me, but a fresher version. I was fed up of looking unhappy, when I wasn't.
I booked in my operation for September. In between the time of my consultation and of my operation, Hilde was quick to answer any mails I sent. The reception staff were also very helpful and friendly, following me up with anything I needed. I knew I was in good hands and felt safe.
It's now 10 days after my op and I'm so happy with the results, I don't look sad anymore and I have a neck line. I´m very glad that I did it.
The first night was uncomfortable. I was very nervous to have the drains taken out the next day, but didn't feel a thing. I had hardly any bruising and no bleeding, but I was very swollen. The numbness feels very strange, but I know it will pass. I was reassured by Hilde that the second and third night would be the most difficult, but by day 4 things would improve and she was correct :-) I can say that there has been no extreme pain, it's the swelling that makes you feel uncomfortable. To explain it better for others, it feels like you are wearing a face mask that sets stiff, but as each day passes by, it loosens up a little.
I had some staples and stitches taken out yesterday. Again, I was really nervous but didn't feel a thing.
I would like to thank Hilde for her outstanding work and taking such good care of me. Not to forget the talented team she has around her. The doctor who performed the anesthesia on the morning of the operation took good time with me and listened to all my concerns. He reassured me and calmed me down. The nurses were excellent. I felt very safe with them. If anyone is considering a facelift, I can definitely 100 % recommend Hilde Bjærke, there's no one else for me!"
Positive feedback from friends and family
"I had a face- and part-neck lift in February at Cosmo Clinic in Oslo. I was happy to experience that Oslo has such an expert, super state-of-the-art clinic, after having checked out clinics in Germany but finding it more convenient to do the planned facelift here in Norway where I currently live.
Hilde with her beautiful looks and calm and efficient manner of counseling - is a very convincing "poster girl" for her clinic. She is very matter-of-fact and gave me a totally realistic evaluation of what could be done, should be done and how she would eventually do it. I felt I was in very safe and experienced hands and totally trusted her evaluation.
The surgery itself was expertly done and now - after three months - I couldn't be happier with the results. I got positive feedback from friends and family: The ones who knew were surprised how 'natural' the new me looked, the ones who didn´t were sure that I had either had an extensive holiday in a spa retreat on a far-away island, a juvenile toy boy - or indeed had some mysterious yet efficient treatment that didn't look like surgery at all.
I can only highly recommend Hilde and am very glad that I went through with my long-harbored plan to improve my looks and get rid of a bit of the wear-and-tear of 55 years of living good and not always entirely healthy. So, if I had to do it again and despite a little discomfort and looking like a victim of domestic abuse for some days - I'd happily do it again at Cosmo Clinic in Oslo!" (Ruth, 55 years)
Extremely professional
«I would like to highly recommend the Cosmo Clinic, where I recently had facial surgery. Dr. Hilde Bjærke and her team were extremely professional, with excellent care after the surgery. The atmosphere in Cosmo Clinic is comfortable, warm and welcoming. And the price was absolutely fine. If you are considering surgery, I highly recommend that you visit Cosmo Clinic for a consultation. The staff will explain the procedure to you in clear detail, so that you can make a well-informed decision. After the surgery, you will wonder why you waited so long to take this very positive step in your life.»
Meet our facelift specialists
Hilde Bjærke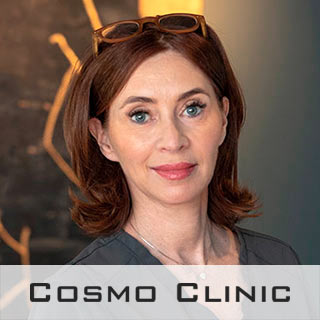 Dr. Hilde Bjærke is a board certified plastic surgeon, specialised in facial plastic surgery. She was trained at Rikshospitalet, Oslo, specialising in advanced microsurgical facial reconstructions. At Cosmo Clinic, she is the facial expert, performing advanced facial procedures like facelifts and necklifts, endoscopic forehead lifts, upper and lower blepharoplasty, laser treatments, and chin implants. Bjærke's broad experience in facial surgery makes her a trusted name in Norway, and she has been interviewed about facial plastic surgery several times on national TV.
As a face specialist, Dr. Hilde Bjærke understands the intricate anatomy of the face and that each face is unique. Dr. Hilde Bjærke's care is personalized according to individual desires and features.
By focusing exclusively on facial plastic surgery, Dr. Hilde Bjærke believes that she can give her patients the best care and outcomes. She has an individualized tailored approach to facial aesthetic surgery. Each face is unique, and care is customized according to patient's goals, expectations, and individual features. Dr. Hilde Bjærke is renowned for outstanding results. She combines a perfectionist style with an artistic eye, and has a deep understanding of the science behind the aging process. As a result, she provides natural results highlighting the patient's individual beauty.
Read reviews and testimonials here
Tomm Bjærke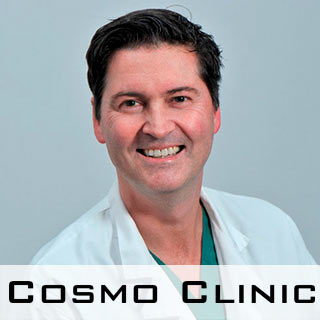 Dr. Tomm Bjærke is a board certified plastic surgeon and founder of Cosmo Clinic. He was trained at Rikshospitalet and worked at Colosseumklinikken from 2004 to 2016. Bjærke is one of Norway's most experienced cosmetic plastic surgeons, having performed thousands of procedures both at Colosseumklinikken and now at Cosmo Clinic. He is especially well known for his forehead- and facelifts, through his experience with more than 1,500 facial procedures, as well as more than 3,000 breast augmentations. At Cosmo Clinic, Bjærke performs all kinds of plastic surgery, with a special focus on facial and breast surgery.
Read reviews and testimonials here
To schedule a personal consultation with one of our surgeons to learn more about your cosmetic surgery options, please contact our office by calling 21 05 56 60. You can also This email address is being protected from spambots. You need JavaScript enabled to view it..